Better together Cinderella Coming Soon!!!!! September 7, 2021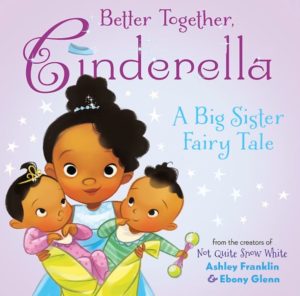 https://www.harpercollins.com/products/better-together-cinderella-ashley-franklin?variant=33011847659554
The Basics
I Write.
I can't remember a time when I haven't loved writing. It's always been my go-to. When happy, sad, and everywhere in between, writing helps me to find my internal voice when my external voice fails me.
I Teach.
I teach online–mostly English composition courses. I love helping students find their voices. Many come with scars from past English courses or teachers, and it has done a number on their writing confidence. I feel lucky to help them to regain it.
I Mom.
I have two very active sons with very active imaginations. The way they view and explain the world has helped me with my craft.
These are the parts that influence my writing. When I can combine them, I feel like I'm at my best.
Hey, look! It's my published writing. Click the images to purchase: